Introduction to Seating and Mobility Assessments
Where do we start when conducting a seating and mobility assessment? How do we determine the most appropriate base to meet someone's needs? Have we obtained all the crucial information we need to procced to trial? For those therapists newer to complex AT prescription, an initial assessment can be quite daunting. Not only are there different types of mobility options but within each category of chair there are a multitude of considerations. This course takes you through a holistic seating and mobility assessment process. We will apply both clinical reasoning and consideration of the user's prior assistive technology, AT, experience alongside the latest evidence, to identify the most appropriate type of base based on an individual's functional capacity.
The Key to Successful Trials
The trial process is a crucial step in the identification and justification of complex assistive technology, AT, options. This workshop takes a deep dive into the trial process. Once we have identified the potential AT solution to trial how can we determine that it will support the user's functional goals? What evidence do we need to provide in the funding justification? How can we reduce time in writing the report and the need for multiple re trials? In this course we will look at resources and ways to get the most out of the trial process.
Measuring, Providing Evidence and Reporting Functional Outcomes for Complex AT solutions
The trial went well and now it is time to write a funding justification. Within the funding process, we need to identify and trial potential solutions to meet an individual's functional goals, then articulate how the recommended features assist in reaching those outcomes.
There are both formal and informal outcome measures that can assist in the clinical justification of complex AT within a function-based funding model. This course looks at a variety of ways we can measure and articulate outcomes specific to mobility goals. When used appropriately these can assist in ensuring best outcomes for participants as well as providing useful data to support the funding process.
Powered Mobility – Prescribing for Success
Are you new to prescribing power wheelchairs? Or want to know more about drive wheel configuration or when to recommend power seat functions? This presentation provides an introduction to power wheelchairs. We will take a look at what to consider in our assessment, what the drive wheel is and why it matters and a deep dive into power seat functions. This course will help create of foundation of skills to determine which wheelchair base and power seat function features you consider for your clients to meet their goals.
Material Matters: An Introduction to the Components of a Powered Mobility Base
Power wheelchairs are complex assistive technology made up of multiple components that each influence the overall performance of the chair. As clinicians, we are typically taught how to manage the power wheelchair user's needs, but not so much about the power wheelchair itself. This course will look at some of the more advanced considerations when identifying potential powered mobility solutions. From motors, gearboxes and suspension to batteries, tyres and actuators this course will take your power wheelchair knowledge to the next level.
The Functional Application of Power Seat Functions for Best Outcomes
In this workshop, attendees will have an opportunity to get into powered mobility bases and try out the powered seat functions. This will include getting hands-on with functional tasks to help build your skills in assessing and trialling powered mobility bases. From posterior tilt to standing, we will identify a range of considerations that form part of the clinical reasoning processes and look at outcomes required for a successful trial.
Myth busting the Stigma Around Powered Mobility Base Configuration
What is better – Mid wheel drive or front wheel drive? Is one solution for everyone? What does the drive wheel configuration impact? This workshop will look at the differences in driving different configurations. Whilst many of us understand the main differences between mid and front wheel drive, do we understand the differences at a practical level? This workshop will involve driving comparisons to understand and highlight the differences including some tips and tricks to make you more confident in teaching how to drive.
Functional Independent Powered Mobility for Complex Outcomes – Alternative control considerations
Regardless of cognitive capacity, not all end users will have the physical capacity to independently access a standard joystick to mobilise a powered wheelchair. It may require a simple solution such as an alternative or modified joystick knob to a more complex alternative control method. How do we assess for best access? What are the options available? How can programming and input methods provide the best opportunity for an end user? This course will provide you with the basics around selecting the right drive control option for a successful outcome.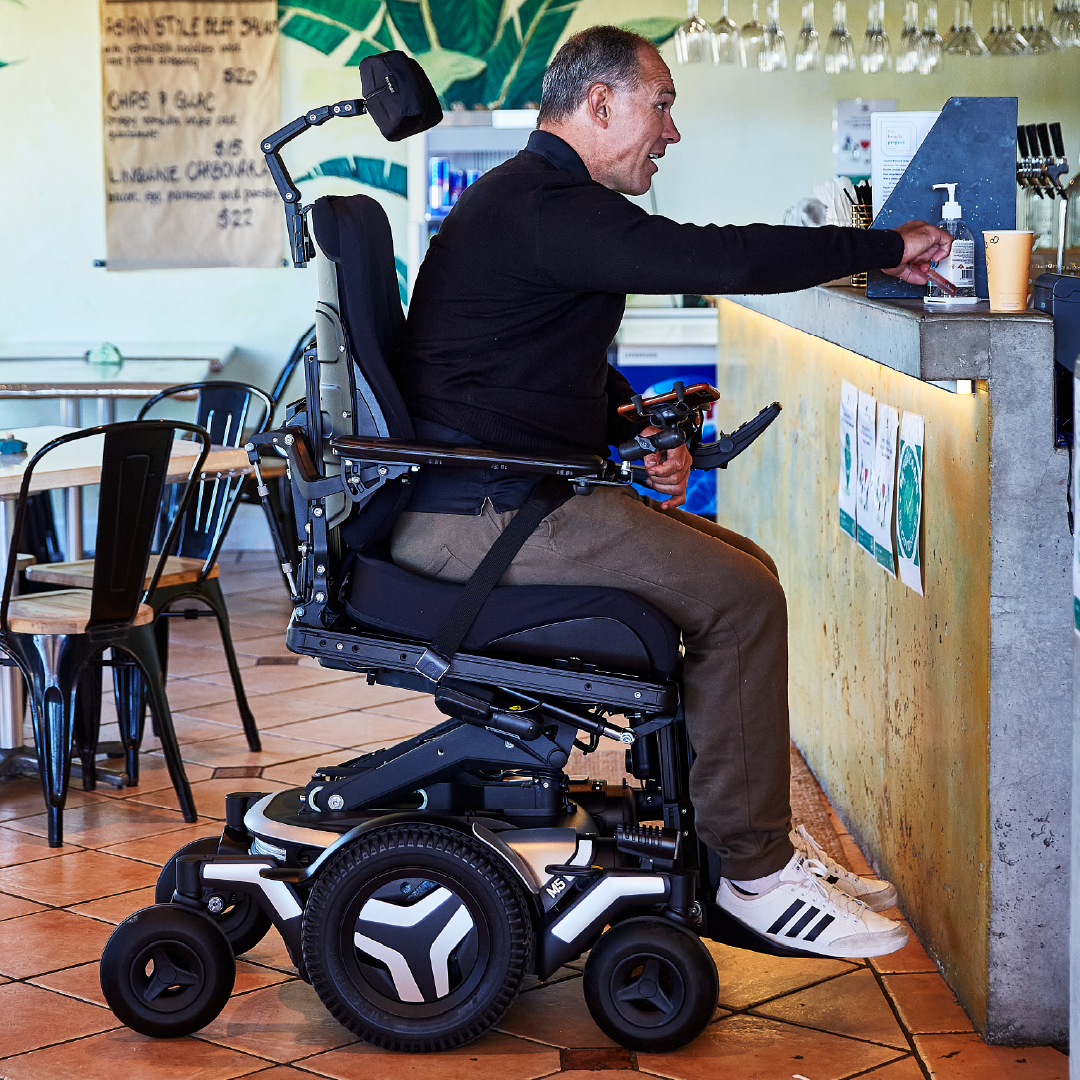 Introduction to Scripted Manual Wheelchairs for Active Individuals
Are you new to prescribing manual wheelchairs? Or want to know how to prescribe more than a basic manual wheelchair? When and how do we determine the best manual wheelchair? What are the differences between a custom configured and a custom-built frame…? Does it matter?
This course provides an introduction to scripted custom manual wheelchairs looking into who may benefit, how we measure and what factors influence efficiency of self-propelling.
Material Matters: An Introduction and Overview of the Design and Materials in Manual Wheelchairs
Complex manual wheelchairs for active users are sophisticated in their design and how they are manufactured, with the final result intended to be a robust functional solution that maximises a person's mobility and independence.
With complex manual wheelchairs we have a number of options – aluminium, titanium or carbon fibre frame materials with mono-tube or dual-tube design, how do we know which options are going to best meet a person's needs? In this course we will consider the relationships between materials, design and how they impact on the potential solution.
Optimal Configuration of a Manual Wheelchair
Optimal configuration of a manual wheelchair to meet the individual user needs is essential when considering mobility related ADLs and function. The research and evidence around manual wheelchair configuration recommend a lightweight chair individualised to the user's needs. Understanding how configuration impacts on function mobility and posture are essential when prescribing manual wheelchairs for optimal function. In this workshop, you will experience a range of set ups and configurations. When we feel the differences that configuration makes and consider the biomechanics of the user alongside the design and configuration of a manual wheelchair, we can appreciate the importance of an individualised fit for end users. Get ready to get hands-on to practice with manual wheelchair propulsion and some of the outcome measures we can utilise to determine the best outcome for our client.
An Introduction to Considering Power Add On
Who benefits from a power add on and how do we assess? What do we need to consider when prescribing power add on's? This workshop looks at the different power add on options, exploring the benefits and challenges of each. We will work through what information is needed from an assessment, potential clinical reasoning strategies and how this relates to identifying the most appropriate device for trial. As part of this process, we will also explore when a power wheelchair may be considered more appropriate than a power add on device. The workshop will finish with a hands-on experience and a look at different ways we can access power assist and outcome measures to support our clinical decisions.
Material Matters: An introduction and Overview of the Design and Materials in Aftermarket Seating Products
There are a number of different seating products available on the market, made from different materials and of different designs. Identifying which product we want to trial can be a challenge. Rather than simply choosing the products we know, we need to be able to critically analyse what the product is made from, how it is designed and if it will meet the user's needs.
The design of a back support or cushion and the materials that are used to fabricate it have a direct impact on how well it will meet a person's postural support and pressure care needs. Understanding these features can help us identify which product will best meet a person's needs.
The Why and How of Modular Seating Options
Providing seating for people with non-reducible musculoskeletal changes can be a challenge. Do we customise a standard 'off the shelf' option? Or do we look at a modular option? When do we need to consider custom fabrication?
We will explore the benefits and challenges of these different seating options, including what product features to look for when selecting items to trial.
Restraint or Postural Control – What is a postural enabler?
Whilst a generic blanket of "restraint" terminology has been historically associated with the fitting and use of pelvic support belts and harnesses, we will explore the current definitions of restrictive practice and restraint to guide our clinical reasoning processes. How do we differentiate between using a pelvic belt as a support, safety belt or restraint? Why do we need to make this differentiation? How can a pelvic belt assist in providing postural support? These questions and more will be discussed throughout the session.
Postural Supports: Positioning for function
We often spend considerable time assessing and looking at backrests and cushion solutions to meet someone's seating needs. The final point of control or postural support is often a postural support accessory such as a pelvic positioning belt or harness. How this is positioned is essential to the postural position outcome. This workshop will look at various seated positions and how these impact on function. Attendees will be empowered to leave with the tools to continue exploratory learning and understanding of how and where pelvic belts are fitted and integrated into the overall seating solution.
Seating and positioning – setting up seating to individualised needs
After market seating set ups require the therapist to identify the points of control and then to set up the seating to provide appropriate support. This session will use case study MAT evaluation information to work through different seating set ups. Concepts of offloading and immersion will be considered alongside design and materials. This is a practical workshop where you will work through and configure a set up based on foundation seating principals and end user needs. We will be diving beneath the seating covers and pushing the products to their limits as we consider the best options and functional outcomes of the client.
MAT 1: A Practical Introduction to MAT Assessment
The 3 parts of the Mechanical Assessment Tool will be explained, demonstrated, and practised. Considerations to completing this assessment outside of a clinic along with infection minimalization strategies will be discussed and implemented throughout the practical session. This workshop aims to increase understanding and confidence in completing the part of the MAT crucial to identification of functional postural positioning. Come along prepared to complete and assist in a full MAT.
MAT 2: From Assessment to Trial: Identification of Product Parameters to best meet needs
This course is aimed towards therapists that can complete a MAT evaluation and identify ROM but want to understand more about translating that information into identification and set up for trial. What does this information tell you? Identification of restriction of ranges, tone and optimal seated position are all essential parts of the seating prescription process but what next? How do you know what seating options will provide the best outcomes? How do you identify the right products to trial? This course focuses on the clinical reasoning process. We will work through case studies to identify potential seating and positioning parameters to ensure best postural and functional positioning.